Christian Poetry Resource & Christian Devotionals
Audio Christian Poems, Christian Card Verses, Christian Poems for Church Newsletters/Bulletins, Christian Devotionals & Inspiring Stories
On this website, I have a large selection of Christian Poems in the 'Christian Poetry Pages' section on many different topics, to encourage and uplift Christians and to hopefully share something of God's love with those yet to come into a relationship with the Lord. These poems are also available on mp3's so you can listen to them if you prefer.

I also have available some Christian Poems, Scripture Poems & Scriptures on beautiful picture backgrounds in the 'Picture Poems' section. These may be freely downloaded for non-commercial use only.

There is a large selection of 'Christian Card Verses' for many different special occasions, and you are free to use the verses for homemade greeting card making, e-cards, scrapbooks or crafts.

The 'Christian Church Worship Songs' section has some of my original Christian songs for individuals/church worship leaders to freely download if they want new church worship songs - for Adults as well as Sunday School/Junior Church.

The 'Inspiring Stories' section has some inspirational stories (mostly) with a Christian message.

Plus a whole lot more!
Christian Poems, Scriptures & Online Bible Study Resources
There is also a selection of 'Scripture Poetry', where you will find Christian Poetry based on various scriptures.

There is a 'Children's Devotionals' section with Children's Devotionals on different topics kids may face. There are also some brief Christian Devotionals in the 'Topic Inspirations' section that you may like to read. 'Daily Inspirations' is a brief devotional that is updated daily.

The 'In God's Word' section has a large selection of Bible Scriptures categorized into many different topics - including Christmas & Easter.

'Praying The Scriptures' is a new section which has a selection of Bible Scriptures worded as prayers categorized by topic.

Plus a whole lot more!
Christian Poetry for Special Occasions
Special Occasion Poetry for use in Church Services, Church Newsletters/Bulletins, Card Making, Scrapbooking or for a Special Occasion.
For new content, click on:
Just click on the site index buttons on the left side to go where you want to. At the bottom of the link buttons, there is a 'Quick Links' box to go directly to different pages. Or if you can't find something in particular that you're looking for through the other links, type in what you're looking for in the 'Search Heavens Inspirations' box (below the 'Quick Links'). This searches within the Heavens Inspirations site.

Please read my 'Terms Of Use' page for information about using the poetry, card verses and devotionals on this site.



For the rest, brethren, whatever is true, whatever is worthy of reverence and is honourable and seemly, whatever is just, whatever is pure, whatever is lovely and lovable, whatever is kind and winsome and gracious, if there is any virtue and excellence, if there is anything worthy of praise, think on and weigh and take account of these things [fix your minds on them]. - Philippians 4:8 (Amp)

If you like, you can visit Heavens Inspirations over on Facebook: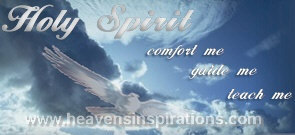 Image created by hisimage.org
If you love reading Christian Poetry, or if you write Christian Poetry, click on 'Links' and you will go to a page where different poetry sites are listed. You can submit poetry there and read lots of other wonderful Christian Poems. (Please do not send your poetry to me, as I don't review other people's work - time does not permit). Also, I have placed other Christian sites of interest on the links page. Be sure to check it out!

Feel free to contact me regarding the poetry, card verses, devotionals or songs on this site.

If you want to visit my church home, click on


All Poetry, Card Verses, Devotionals & Songs On This Site, Is The Copyright © of M.S.Lowndes site owner of Heavens Inspirations 2003-2023, All Rights Reserved